Reduced Mechanical Closet Size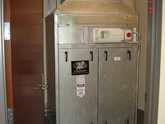 Real Estate is expensive, and every square foot matters. Air Zone International's line of column units can increase your client's net useable square footage by requiring much smaller mechanical closets than conventional horizontal air handling equipment.
Air Zone's column units reduce the footprint of the mechanical closet, thereby allowing more space for the tenant and the architect's creative design. In a typical 25,000 sf gross floorplate, our two column units at the core edges will typically save at least 100 sf per floor compared to a conventional 350 sf mechanical room located in the building core. However, it is very important that the mechanical closets be located correctly to avoid underfloor ductwork and expensive construction techniques. Contact Air Zone for assistance with the optimal location for our column units.
Air Zone's column units reduce the footprint of the mechanical closet, thereby allowing more space for the tenant and the architect's creative design.
Some developers may not be accustomed to using floor-by-floor air handling equipment in a UFAD system because it is thought that mechanical closets on each floor require too much space. We recommend that the following be considered:
Floor-by-floor column units reduce the amount of supply air required to be delivered to each floor, thereby allowing a reduction in the primary air supply duct.
Research shows that temperature demands are unique for each floor in an underfloor system. As such, large AHU's that deliver air from the roof or basement/ground floor typically deliver this supply air to the raised floor plenum at the same temperature on each floor. This can cause tenant comfort issues.
Overall fan horsepower can be reduced when using our floor-by-floor units vs. one or two large AHUs for the entire building.

The Brains of the Operation
In the July Issue of Engineered Systems Magazine, Julie DeNardis with ESD talks about the HSBC project in Chicago which utilized Air Zone's Mixed Flow Column Units.
Lights Out Houston
Air Zone was proud to once again be an organizing sponsor for Lights Out Houston 2009. Over 111 Million SF of building property managers and tenants pledged to forever turn off unnecessary lighting – visit www.lightsouthouston.com for more information.
Air Zone Tower Units Go in one of the world's most energy efficient skyscrapers.
National Geographic takes you behind the scenes of One Bryant Park.
3 New Downtown Office Towers in Houston and Denver are awarded to Air Zone International.
Each of these green projects features our custom air handling units for overhead distribution.
Air Zone teams with Tate in joint marketing initiative.
An initiative that will offer quiet, compact and energy efficient supply air to underfloor service distribution systems.
Hess Explores Discovery Tower
A likely candidate considers entire 30-stories, of which Air Zone International manufactured the air units.
Architecture 2030 Mission
Immediate action required to reverse buildings' emissions.