Less Noise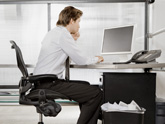 Our underfloor air systems are much quieter than conventional overhead systems. Our air column units are so quiet, the tenants won't even know that they are operating!
Maximize productivity with an environment that's not obstructed with unnecessary noise. Every Air Zone unit is designed and tested for performance and sound. Air Zone's units could not be placed in the tenant space if they weren't exceptionally quiet. Our column units are designed to not exceed NC 40 at standard catalogue dimensions and total static pressures. Our design is the best in the industry at producing quiet equipment. We have performed more independent laboratory sound testing on our column units than any other competitor. To obtain certified test data results, please contact us directly.
Our air column units are so quiet, the tenants won't even know that they are operating!


The Brains of the Operation
In the July Issue of Engineered Systems Magazine, Julie DeNardis with ESD talks about the HSBC project in Chicago which utilized Air Zone's Mixed Flow Column Units.
Lights Out Houston
Air Zone was proud to once again be an organizing sponsor for Lights Out Houston 2009. Over 111 Million SF of building property managers and tenants pledged to forever turn off unnecessary lighting – visit www.lightsouthouston.com for more information.
Air Zone Tower Units Go in one of the world's most energy efficient skyscrapers.
National Geographic takes you behind the scenes of One Bryant Park.
3 New Downtown Office Towers in Houston and Denver are awarded to Air Zone International.
Each of these green projects features our custom air handling units for overhead distribution.
Air Zone teams with Tate in joint marketing initiative.
An initiative that will offer quiet, compact and energy efficient supply air to underfloor service distribution systems.
Hess Explores Discovery Tower
A likely candidate considers entire 30-stories, of which Air Zone International manufactured the air units.
Architecture 2030 Mission
Immediate action required to reverse buildings' emissions.