Easy to Incorporate with Economizer Systems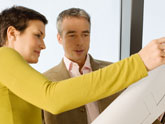 Engineers who need to incorporate an economizer system with floor by floor air handlers can rest assured that Air Zone has the product solutions.
Air Zone Column Units work well with economizer systems. In these applications, either separate economizer or primary air shafts are brought into the mechanical closets and, when functional, will form all or part of the intake air to deliver underfloor. Control dampers are then utilized on the return air and primary treated outside air, if applicable. For more information on utilizing economizer air with our column units, please contact Air Zone.
Looking for a column unit that works well with Economizer Systems? Air Zone International has what you need.

The Brains of the Operation
In the July Issue of Engineered Systems Magazine, Julie DeNardis with ESD talks about the HSBC project in Chicago which utilized Air Zone's Mixed Flow Column Units.
Lights Out Houston
Air Zone was proud to once again be an organizing sponsor for Lights Out Houston 2009. Over 111 Million SF of building property managers and tenants pledged to forever turn off unnecessary lighting – visit www.lightsouthouston.com for more information.
Air Zone Tower Units Go in one of the world's most energy efficient skyscrapers.
National Geographic takes you behind the scenes of One Bryant Park.
3 New Downtown Office Towers in Houston and Denver are awarded to Air Zone International.
Each of these green projects features our custom air handling units for overhead distribution.
Air Zone teams with Tate in joint marketing initiative.
An initiative that will offer quiet, compact and energy efficient supply air to underfloor service distribution systems.
Hess Explores Discovery Tower
A likely candidate considers entire 30-stories, of which Air Zone International manufactured the air units.
Architecture 2030 Mission
Immediate action required to reverse buildings' emissions.