Air Zone and Tate Host Breathtaking Breakfast
on the 95th floor in Chicago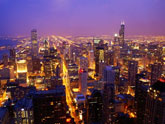 In conjunction with the 2009 ASHRAE Winter Conference, Air Zone and Tate hosted more than 80 customers and sales representatives as they learned about Air Zone's new product offerings: - the Environmental Air Tower with Optional Energy Wheel, the Upflow Column Unit, and the Dual Flow Column Unit. While the guests watched the sun rise on the beautiful city of Chicago, they also heard a wonderful presentation from Julie DeNardis with ESD on UFAD and the Use of Column Units – Lessons Learned and from Rick Malley with Tate on strategies for minimizing construction problems on a UFAD project. Please join us again next year as we host another event in Orlando.

The Brains of the Operation
In the July Issue of Engineered Systems Magazine, Julie DeNardis with ESD talks about the HSBC project in Chicago which utilized Air Zone's Mixed Flow Column Units.
Lights Out Houston
Air Zone was proud to once again be an organizing sponsor for Lights Out Houston 2009. Over 111 Million SF of building property managers and tenants pledged to forever turn off unnecessary lighting – visit www.lightsouthouston.com for more information.
Air Zone Tower Units Go in one of the world's most energy efficient skyscrapers.
National Geographic takes you behind the scenes of One Bryant Park.
3 New Downtown Office Towers in Houston and Denver are awarded to Air Zone International.
Each of these green projects features our custom air handling units for overhead distribution.
Air Zone teams with Tate in joint marketing initiative.
An initiative that will offer quiet, compact and energy efficient supply air to underfloor service distribution systems.
Hess Explores Discovery Tower
A likely candidate considers entire 30-stories, of which Air Zone International manufactured the air units.
Architecture 2030 Mission
Immediate action required to reverse buildings' emissions.