If the World's Deepest Subsea Station Used Air Zone Technology, Shouldn't You on Your Next Project?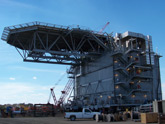 Only the finest customers who need top performance use Air Zone International. Air Zone manufactured (2) 48,000 cfm Outdoor Air Handling Units for the Shell Perdido topside platform for the purpose of supplying conditioned air to the crew's living quarters on the subsea station. These custom units, designed at over 6.00" of TSP, were constructed from 316 Stainless Steel (16 gauge exterior and 20 gauge internal liner) and included Twin City Belt Drive Plenum Fans, High Energy Efficient TEFC motors, 2 Staggered Chilled Water Coils with Copper fins, Baked Heresite Phenolic Coating and 316L Stainless Steel Casing and Return Air and Supply Air Isolation Dampers also constructed from 316L Stainless. The units were shipped as a competed assembly from the Air Zone factory in February, 2009.
AHUs had better be designed to last and have little need for maintenance when they are being installed on a 555' high tower exposed to the Gulf of Mexico weather elements and designed to drill in 8,000' of water. While not all jobs require such tough and exacting specifications, for engineers it's good to know a company can meet them when they are required. Call Air Zone for your next custom AHU project – onshore or offshore!

The Brains of the Operation
In the July Issue of Engineered Systems Magazine, Julie DeNardis with ESD talks about the HSBC project in Chicago which utilized Air Zone's Mixed Flow Column Units.
Lights Out Houston
Air Zone was proud to once again be an organizing sponsor for Lights Out Houston 2009. Over 111 Million SF of building property managers and tenants pledged to forever turn off unnecessary lighting – visit www.lightsouthouston.com for more information.
Air Zone Tower Units Go in one of the world's most energy efficient skyscrapers.
National Geographic takes you behind the scenes of One Bryant Park.
3 New Downtown Office Towers in Houston and Denver are awarded to Air Zone International.
Each of these green projects features our custom air handling units for overhead distribution.
Air Zone teams with Tate in joint marketing initiative.
An initiative that will offer quiet, compact and energy efficient supply air to underfloor service distribution systems.
Hess Explores Discovery Tower
A likely candidate considers entire 30-stories, of which Air Zone International manufactured the air units.
Architecture 2030 Mission
Immediate action required to reverse buildings' emissions.