Air Zone donates to Houston GBRC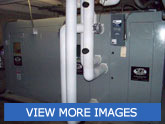 Air Zone International is a proud supporter of green building and we are pleased to have donated a custom air handling unit to supply the 6" Underfloor Air raised floor plenum at the new City of Houston Green Building Resource Center (currently under construction). This new center will be an invaluable place for the building community to view the latest in green products and technologies and will be the "place to go" for becoming educated on building green in Houston.
Air Zone International's 9,000 cfm horizontal modular unit (demounted in 2 sections for ease of installation) is constructed from 2" Double Wall G-90 steel and contains the most efficient direct drive plenum fan, high efficient motor and VF drive available on the market today to ensure energy consumption is kept to a minimum. A factory installed CosaTron Filtration Efficiency Enhancement System ensures that the highest air quality is delivered across the cooling and hot water coils and into the plenum space. Please contact us for more information on how Air Zone can deliver a high quality air handling unit for you. The Green Building Resource Center is expected to open by April, 2009. Air Zone International – The Future of Green Air Handling Solutions.

The Brains of the Operation
In the July Issue of Engineered Systems Magazine, Julie DeNardis with ESD talks about the HSBC project in Chicago which utilized Air Zone's Mixed Flow Column Units.
Lights Out Houston
Air Zone was proud to once again be an organizing sponsor for Lights Out Houston 2009. Over 111 Million SF of building property managers and tenants pledged to forever turn off unnecessary lighting – visit www.lightsouthouston.com for more information.
Air Zone Tower Units Go in one of the world's most energy efficient skyscrapers.
National Geographic takes you behind the scenes of One Bryant Park.
3 New Downtown Office Towers in Houston and Denver are awarded to Air Zone International.
Each of these green projects features our custom air handling units for overhead distribution.
Air Zone teams with Tate in joint marketing initiative.
An initiative that will offer quiet, compact and energy efficient supply air to underfloor service distribution systems.
Hess Explores Discovery Tower
A likely candidate considers entire 30-stories, of which Air Zone International manufactured the air units.
Architecture 2030 Mission
Immediate action required to reverse buildings' emissions.