Air Zone is Ready to Improve the Efficiency
of Your Existing Building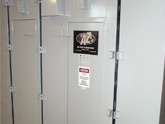 Custom AHU replacement for Trinity Church designed into 9 shipping splits.
Congress recently appropriated over $208M in funding to Texas for conducting energy audits and energy efficient retrofits in residential and commercial buildings as well as other improvement measures. "The Block Grants are a major investment in energy solutions that will strengthen America's economy and create jobs at the local level," said Secretary Chu. "The funding will be used for the cheapest, cleanest and most reliable energy technologies we have – energy efficiency and conservation – which can be deployed immediately. The grants also empower local communities to make strategic investments to meet the nation's long term clean energy and climate goals." Because of these programs, we see a bright future at Air Zone.
When replacing existing modular air units, two things are important: meeting the existing AHU footprint and being able to get the AHU into the existing mechanical room via stairwells or elevator shafts. Probably better than any other manufacturer, Air Zone can tailor the shipping splits to meet existing conditions so that owners can replace their outdated air handling unit with a far superior unit. Fully assembled and tested in the factory, our units are split into sections to accommodate customer needs. Mechanical contractors often comment how easy it is to re-assemble our AHUs. Our high quality units can be equipped with ABB VF Drives and we can factory mount any control equipment further simplifying life for the mechanical contractor. Our low-leak, energy efficient equipment is designed to last a long time and can offer a solid payback on investment. When replacing your outdated AHUs, call Air Zone – we can help you recover too.
More information on this program can be found at www.energy.gov/recovery

The Brains of the Operation
In the July Issue of Engineered Systems Magazine, Julie DeNardis with ESD talks about the HSBC project in Chicago which utilized Air Zone's Mixed Flow Column Units.
Lights Out Houston
Air Zone was proud to once again be an organizing sponsor for Lights Out Houston 2009. Over 111 Million SF of building property managers and tenants pledged to forever turn off unnecessary lighting – visit www.lightsouthouston.com for more information.
Air Zone Tower Units Go in one of the world's most energy efficient skyscrapers.
National Geographic takes you behind the scenes of One Bryant Park.
3 New Downtown Office Towers in Houston and Denver are awarded to Air Zone International.
Each of these green projects features our custom air handling units for overhead distribution.
Air Zone teams with Tate in joint marketing initiative.
An initiative that will offer quiet, compact and energy efficient supply air to underfloor service distribution systems.
Hess Explores Discovery Tower
A likely candidate considers entire 30-stories, of which Air Zone International manufactured the air units.
Architecture 2030 Mission
Immediate action required to reverse buildings' emissions.