In This Issue:
- Guest Writer Fred Bauman on UFAD tool
- NEW LEED EB: Operations and Maintenance
- Air Zone AHUs on 2 Very Green Buildings
- GHP to host Summit on Energy Future
- LEED Certification at 73% of the Market
---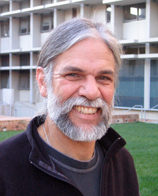 Fred Bauman, P.E.
Center for the Built Environment
University of California, Berkeley

Simplified Cooling Airflow Design Tool for UFAD Systems
By: Fred Bauman
During the past ten years as underfloor air distribution (UFAD) has begun to demonstrate significant growth in new commercial office building construction in North America, the need for guidelines for making cooling airflow design calculations has been one of the most frequent requests among design engineers. The challenge in this regard has been how to accurately account for differences between a stratified UFAD environment and the familiar well-mixed environment produced by a conventional overhead air distribution system. Researchers at the Center for the Built Environment (CBE) have recently developed a simplified spreadsheet-based cooling airflow design tool for interior zones as part of CBE's ongoing development of whole-building UFAD energy modeling tools [Bauman et al. 2007. "Cooling Airflow Design Calculations for UFAD." ASHRAE Journal , October]. The design tool predicts required cooling airflow rates and the amount of stratification in the occupied zone for a range of design conditions and two types of diffusers. The tool accounts for heat transfer to the underfloor supply plenum, which can be a significant portion of the total cooling load. Future versions of this tool, scheduled for completion later in 2008, will include support for the design of perimeter zones and a user interface. For more information: cbe@berkeley.edu; www.cbe.berkeley.edu.